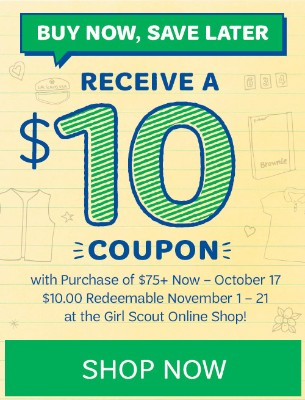 Girl Scout uniforms, Badges, patches, Journeys, clothing, and more can be found at all the GSCI Trefoil Boutiques or online!
Buy Now, Save Later! Receive a $10 coupon with the purchase of $75+ from August 22 through October 17. The coupon is redeemable November 1 through November 21 on purchase of $25+. Valid in-stores only. Excludes cookie dough, shop coupons and gift certificates.
Continue >


New Journeys and badges are rolling out this summer at GSCI and we want you to be among the first to get the exciting details. These new Journeys and badges not only make timely additions and enhancements to our existing girl programming but also create a more robust experience for subject areas that are most compelling to today's girls! A total of 8 Journeys and 37 Badges!
Continue >