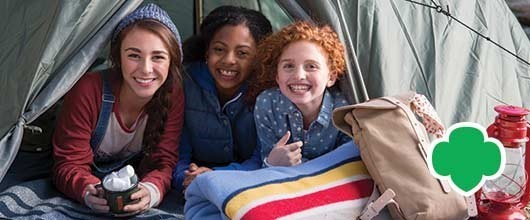 2018 Summer Camp
Unplug. Unleash. Discover. This summer, bring her somewhere safe, enriching, and filled to the brim with opportunities – give her the change to camp #LikeAGirlScout! Check out the entire Summer Camp Guide to see what adventure await. Before you register for camp be sure to read the Need to Know information about camp. Once you are registered, find all the details and forms in the Camper Booklet.  
We know it can be hard to send her to camp for the first time, but you can feel at ease that, while she's having the time of her life discovering all the wonders of the great outdoors, trying new things, playing games, making friends, and so much more, she's well taken care of, happy, and learning critical life skills every step of the way. The Summer Camp At-a-Glance with dates and age levels should make planning her summer camp easier to avoid any conflict with other family activities
The Proof Is in the Research! Did You Know?
Camp builds problem-solvers! Girls with more frequent outdoor experiences are more likely to seek challenges and are better at solving problems—qualities that will help them embark on a lifetime of leadership, both academically and personally.
Camp exposes girls to new experiences! Of girls surveyed, 72 percent said that Girl Scouts gave them the chance to build their skills or try new outdoor activities.
Camp builds courage and confidence! Spending time in nature improves a girl's concentration and creative reasoning. Outdoor experiences also help promote healthy social development and increase her self-esteem.
Read the full report on More Than S'Mores: Sucess and Surprises in Girl Scouts' Outdoor Experience.
Camp Kiwanis

CampTastic

Camp Peairs

Camp Tapawingo

Day Camp

Mini Resident Camp

Resident Camp

Brownie

Junior

Teen

Teen Leadership

Equestrian Camp Tapawingo

Camp Widjiwagan

Camp Sacajawea - Quincy

S'More Adventures Family & Troop Events